Think you have to reduce the space in your boat, on your patio or inside of your home to enjoy high quality sound? Think again! The N9.5R Single Driver Speaker does not require a specially designed cabinet to produce the best possible sound, so you can use it even in places where space is a minimum. Full water, UV and saltwater resistance allow the speaker to function anywhere that you want to listen to your favorite songs with high-definition sound. The speakers are handcrafted by skilled American artisans and are fully backed by a 3-year warranty.
Size: 9 1/2"

Colors: White and Black

Impedance: 4 Ohm & 8 Ohm

Freq. (+/-3dB): 30Hz - 19kHz

Efficiency (1W / 1m): 94dB

Power: 20/80/300W
Min./Cont/Max
Dimensions
| Face OD (A) | Cut-Out (B) | Height (C) | Weight (each) |
| --- | --- | --- | --- |
| 10.3" | 8.85" | 4.3" | 3lb 1oz |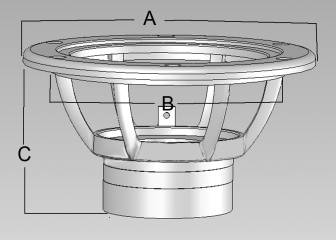 Notes
This model uses a vented neodymium magnet and needs an additional ¼" minimum clearance behind the magnet. They are not meant to be mounted with direct salt-water exposure on the back-side. Be certain there are no braces, frames, glass or other obstructions behind the panel that would interfere with the insertion of the speaker. We recommend mounting the speaker from the top as this gives the best possible sound.
Measurements
| | |
| --- | --- |
| f(s) | 72 Hz |
| Q(ms) | 1.476 |
| V(as) | 4.19 liters (0.148 cft) |
| n(0) | 0.21% |
| M(ms) | 6.31 grams |
| R(e) | 6.56 Ohms |
| Q(es) | 0.694 |
| SPL | 85.42 db 1W/1m |
| C(ms) | 0.77mm/N |
| Piston Diameter | 88.9 mm |
| Z(max) | 20.51 Ohms |
| Q(ts) | 0.472 |
| L(e) | 0.188 mH @ 10kHz |
| SPL | 86.28 db SPL 2.83 Vrms |
| BL | 5.19 |
Speaker Recommendations
Amplifiers should have a minimum of 25 watts RMS per channel for best performance. Distortion from a cheap or underpowered amplifier will do more damage than a high-powered amplifier used judiciously.
For wiring runs of 3 feet to 10 feet we recommend 16 gauge wire at a minimum, for runs of 10 feet to 20 feet a minimum of 14 gauge wire and for runs beyond 20 feet a minimum of 12 gauge should be used. Larger gauge wire is always better up to a point.
The N9.5R's are efficient enough to work with most head units (cd players, tape decks, etc.) pushing 25 Watts per channel. No amp, crossovers or other gear is needed, a true plug & play driver!
If you are looking for a bit more oomph then hookup a good amp, these babies will handle 80W RMS and up to 300W.
Building a box?
Indoor use: we recommend 3/4 to 1 (one) cubic foot ported box.
Outdoor use: we recommend 3/4 to 1 (one) cubic foot sealed box.
General Speaker FAQ
Select a suitable location for the speakers. They are not meant to be mounted with direct salt-water exposure on the back-side. Be certain there are no braces, frames, glass or other obstructions behind the panel that would interfere with the insertion of the speaker. We recommend mounting the speaker from the top as this gives the best possible sound. Wall thickness of the larger speakers (N69, N7, N9.5) can be ¾" with no deterioration of sound quality. When mounting the N4 or N5 speakers and the mounting wall thickness is greater than ¼" you may have to chamfer the opening inside the cabinet to allow proper exiting of the air from the speaker frame (basket). If top mounting in not possible, the speaker may be mounted from behind using a gasket. For the best sound quality rear mounting should only be done if panel is no thicker than .25" (6mm) as this will make the speaker sound "closed in" and project poorly. Because of the tremendous bass power of the DC GOLD AUDIO speakers, the mounting panel should be as sturdy as possible. To realize the full potential, the speakers need a reasonable volume of air behind them. Thin or flimsy wall and / or lack of air volume will detract the sound quality. Depths of the speakers range from 2.25" (57mm) to 4.7 (120mm) please measure carefully.
Cut hole with template provided using a knife, saw or sheet metal shears. Clean the installation area thoroughly, specially loose fiberglass bits and or metal shavings. Sand or file edges before the next step.
Fit the speaker into the opening and mark the location of the mounting holes. Remove the speaker and drill the pilot holes as marked. Key to the great sound of DC GOLD AUDIO speakers is the elimination of the spider found in conventional speakers. To avoid possible contamination of the exposed motor, remove all debris carefully before fitting the speaker into the opening.
Route the speaker leads through the vehicle. Avoid running wires where they may be pinched.
Connect leads to the speaker terminals and mount the speaker in place using the stainless steel screws supplied. The terminal with the red dot is the positive (+) lead. This can be checked with a battery the positive (+) lead of the battery connected to the positive lead of the speaker and the negative (-) connected to the negative lead of the speaker should cause the cone to move forward. If the speaker moves inward, switch polarity of the speaker terminals. Rosin core solder will give the best connection. It is best to carefully start each screw, but do not tighten until all are in place-then tighten snugly-do not over tighten as you can crack the polymer frame.
Follow the instruction supplied with your stereo or amplifier for proper electrical connections. Note that one of the wires is marked for proper identification, to assure proper phasing of the speakers. Improper phasing will greatly reduce low frequency response. To check, turn balance to one speaker and then to the other while playing. If bass response is greater on either one speaker than both playing together, one speaker is connected out of phase. A similar check can be performed on a four-speaker system using the fader to check phasing between the front and rear speakers.
YES, DC GOLD Speakers can be submerged in water without causing harm. It is not recommended that the speakers be played while submerged. This is because speakers are electrically run pieces of equipment and live electrical wires would also have to be submerged.
4 Ohm is usually chosen for any mobile 12 volt operation - cars, boats, etc.
8 Ohm is usually chosen for 120/220 volt operation - home / home theater.
The best way to make a determination is to read the specification in the owners manual of the equipment you are using. In many instances the 4 Ohm and 8 Ohm can be interchangeable although some amplifiers would prefer a particular impedance. As our speakers have very low inductance the impedance is very stable across the frequency spectrum they tend to be very amplifier friendly.
The Classic is based on the original Babb Speakers. DC GOLD has updated the original designs with a newer, lighter and more powerful neodymium magnet utilizing a copper Faraday ring and t-type gap for lower distortion. Both the Classic and Reference have an aluminum alloy cone with a proprietary coating for smoother sound. The Reference utilizes the same magnet and replaces a key piece of the cone with beryllium. This provides a cleaner, more dynamic sound. From resonance to 20+ kHz there is little in the world that will keep up with it; truly state-of-the-art!.
While maintenance is not necessary, there may be something you can do to extend the life of your speakers.

DO NOT USE CLEANERS OR CHEMICALS ON YOUR SPEAKERS. If your speakers are dirty use a mild liquid dish soap and water mixture on a clean rag to clean the exterior of your speakers.
If your speakers are used in a salt-water boating environment;
It is recommended that you rinse your speakers off with fresh water when rinsing your boat.
It is recommended that at least 1 time per year you remove the speakers from the boat and submerge the drivers in a bucket or sink full of tap water for 1 to 2 hours. Rinse the drivers in clean tap water upon removal from the bucket or sink and let them air dry before reinstalling them in the boat.
$695/pair
100% Waterproof and UV Resistant
Speakers Hand Built in the USA
3 Year Warranty
Can be Rebuilt for Life *
Full Range - Single Voice Coil
High Energy Neodymium Magnet
Ferro-Fluid Cooled Voice Coil
Aluminum/Magnesium Alloy Cone